Things to do in Zanzibar
Things to do in Zanzibar / activities in zanzibar : Zanzibar is an impressive Tanzania safari destination and an island located off the eastern coast of Africa on Indian Ocean, Zanzibar is a semi-autonomous region of Tanzania composed of Zanzibar Archipelago in Indian Ocean and lies in about 25-50 kilometers from the mainland. Zanzibar is made of 2 main islands "Unguja and Pemba Island" and other small islands with Zanzibar city as the capital and located on Unguja Island.
Zanzibar is a very historic site and relaxing destination for beach vacations, Zanzibar has a lot of activities to offers to tourists visiting the island for a safari and below are the things to do in Zanzibar.
Visit the stone town
Stone town is the old part of Zanzibar located on the western coast of Unguja the main island of Zanzibar Archipelago, stone town is also known as Mji Mkongwe a Swahili slag meaning old town and a former capital for the Zanzibar sultanate. Stone town is the central point of Zanzibar island situated off the coast and sheltered by harbor, formerly this town was a fishing village and later developed into a city.
Stone town is a very remarkable historical and heritage town with diverse influence of Swahili culture and unique mixture of Arab, Persia, Indian and European elements, because of this the town was designated as A UNESCO World Heritage Site in 2000. Stone town offers a number of activities travellers can engage while on their visit, these activities include
taking a walk in the narrow amaze of streets in which you are bound to get lost due to the resemblance of the streets, guided walking tours in the stone Town are usually 3 hours of walking and admire various aspects of the town filled with culture and unique architecture.
Visit the birth place of Freddie Mercury, Freddie mercury was a famous British singer, song writer, record producer and lead vocalist of the rock band Queen. Freddie Mercury is considered to be one of the greatest singers in the history of rock Music. Though he is of British nationality, Freddie Mercury was born in Zanzibar and if you are a fun of Queen Band you will be excited to visit the birth place of the icon.
Visit the old port, while visiting Stone Town there is a chance to visit the Old Port which is one of the oldest building. Old Fort is a unique historic master piece built Omani Arabs.
Other sites to visit in Stone Town include House of Wonders, slave museum and many more.
Boat trip and snorkeling in Zanzibar
Zanzibar Island is a perfect destination of boat trips and snorkeling on the fresh waters of Indian Ocean, Zanzibar has many sites from where a travellers can book a boat for boat trip and the boat comes with an experienced escort.  A boat trip on the waters of Indian Ocean offers excellent sights of marine animals such dolphins as they swim in the waters, protruding coral reefs and the distant islands. If you are interested in touring the marine life below the surface of the waters, snorkeling is a perfect activity for you. Snorkeling at Zanzibar Island comprises of many snorkeling spots and the best of them is Mnemba Atoll on the coast of Mnemba, snorkeling at this coast is a chance for divers to get up-close with the beautiful coral reefs, various fish and marine life such as dolphins, green turtles and sea stars.
Try local dishes
At Zanzibar Island there are a variety of local dishes which will blow your mind and attempt you to try them, Zanzibar is a popular destination for various local dishes but the most popular spot on this island to try out local dishes is the stone city. Some of the local dishes to try out in Zanzibar include
Zanzibar pizza – this pizza is more different from normal pizza as it resembles pancakes or pupusa, this pizza is offered with chicken or beef and they usually include egg, cheese, onion, bell peppers and Mayo.
Biryani and pilau – Biryani and Pizza is a signature traditional rice dish on Zanzibar Island and Tanzania, Biryani is prepared separate from the meat and sauce and when they are finished cooking. These dishes are combined and served with an amazing sauce. Pilau is cooked all together with the ingredients in the same cooking pot and served with meat or choice.
Urojo soup – Urojo soup is a flour-based soup with flavors of mango and lemon flavors, this soup also includes potatoes and served in three ways that are cubed, fried mashed potatoes and potato shavings. This soup is served with lots of spices and meat.
Zanzibar tea – Zanzibar tea is a famous tea on this Island, this tea is prepared with a blend of species.
While in Zanzibar you can also learn how to prepare these dishes, cooking class on a daily  and the session will make you fall in love with local dishes on this island.
Spice tour
A spice tour in Zanzibar is one of a kind experience offering you an insight about the spices found on this island and how they grow, Zanzibar is also referred to as Zanzibar Island because of the various spices grown and present on the Island. As the early settlers arrived at Zanzibar, they discovered that the soils and climatic conditions perfectly supported spice growing and as they settled on the island they established famous growing various spices.
Spice tour in Zanzibar is done on foot and offers a visit to numerous spice farms, learn how to grow spices, processing them and taste a variety of them. Spices grown on Zanzibar Island include cloves, black pepper, cloves, nut Meg and many more.
Visit Jozani forest
Jozani forest is a famous primate destination in Zanzibar famous for red colobus monkeys and endemic species to Zanzibar, Jozani forest is protected in Jozani Chwaka Bay national park of 50 square kilometers. This forest is a home to about 1000 Zanzibar red colobus monkeys which are rain forest species, these species are only found in Zanzibar and are also known as Kirk's red colobus named after Sir john Kirk. Sir John Kirk was a British resident who started brought the famous Zanzibar red colobus monkeys to attention of zoological science.
Jozani forests also inhabits other primate species such as Sykes monkey, bush babies, mammals like Zanzibar nocturnal tree hyrax and marine species such as dolphins, shark. Tuna and marlin. While visiting the Jozani forests travellers can participate in nature walks safaris and primate tracking on which they are to come in contact with the beautiful primates found in this forest.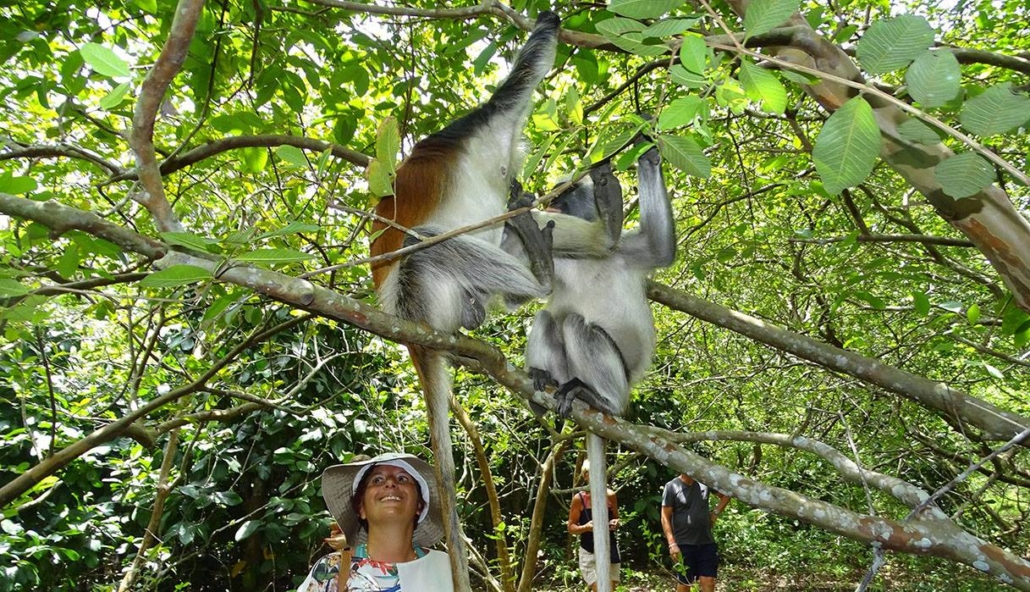 Kite surfing
Zanzibar is a great destination for kite surfing expeditions, Kite surfing is amore of a sport activity involving standing on a small surfboard or kite board. The kite is drag by the wind while you holding onto the kite. Zanzibar has many kite surfing spots such as Paje, Nungwi beach, Jambiani beach and many more with Paje considered to be the best spot. For travellers with no experience in Kite surfing, lessons are offered by a plenty of instructors who will assist you at a very fair price.
The best time to go kite surfing in Zanzibar is in the period of January – February and June to September.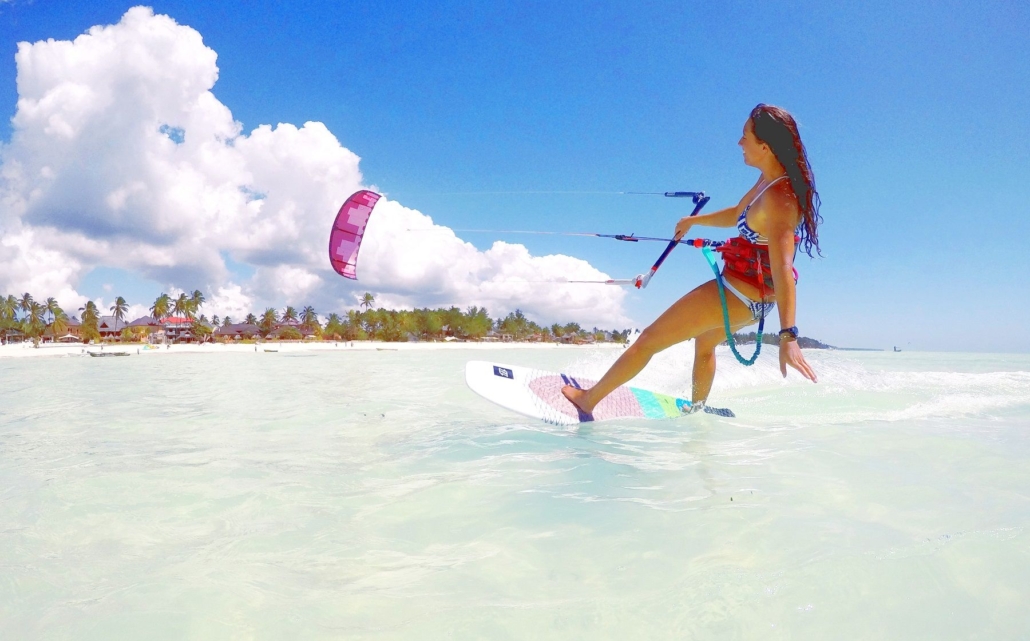 Eat at rock restaurant
Eating at rock restaurant on Zanzibar island is more than eating, it is an experience. This unique restaurant is situated off the coast of Pingwe siting on an actual rock and accessed by sailing on water, rock restaurant serves a wide range of dishes such as lobster, cigal, king prawns, octopus, calamaria on the grill, stewed rock lobster, homemade Tagliatelle served with small lobster, grilled fish fillet and many more.
Visit Prison Island
Prison Island on Zanzibar is a very tranquil destination to visit on Zanzibar, Prison Island is also known as Changuu Island was historically inhabited by the Arabs in 1860s and used as a temporary shelter for slaves who rebelled against the Arab rule. These slaves were kept at the island before being solved which explains the name prison island, this island was also used as a site to quarantine individuals who got sick with yellow fever epidemic. When the island switched from the hands of the Arabs to the British colonial rulers, the British colonial masters constructed a real prison which was later turned in to a restaurant.
Following the introduction of giant tortoises on the island, Prison Island has become a peaceful sanctuary to the giant tortoise and one your visit to the island you are to encounter these giant creatures said to be over 150 years old. While on the visit, travellers can also participate in swimming, snorkeling and watch many bird species such as the amazing peacock. Prison Island is accessed on a 25 minute boat drive from Stone town.
 Diving 
Zanzibar is a perfect destination in Tanzania for diving safari experiences, Zanzibar Island comprises of many destinations offering diving such as Mnemba Atoll Marine reserve situated right off the north-east coast. Diving deep in the clear waters of Indian Ocean offers divers an opportunity to discover and encounter sea creatures such as turtles, emperor fish, sting rays, giant trevally fishy, lion fish and coral reefs.
Note: Divers interested in under water pictures should carry water proof camera and while diving do not touch the coral reefs because they are sensitive features and it takes them years to regenerate if disturbed.