Congo Safaris : The Democratic Republic of Congo (DRC) is Africa's second-largest country. It is, nevertheless, unrivaled in terms of natural beauty and riches. Congo safaris reveal incredible species, many of which are unique to the region, thanks to the country's dense tropical rain forest. A few examples include the shy Okapi, eastern lowland gorillas, and bonobos. Gorillas are currently the most popular attraction in Congo. The Democratic Republic of Congo is the only country on the planet that has both mountain and lowland gorillas. The Nyiragongo volcano in Virunga National Park is unquestionably one of Africa's most spectacular sights.
A Congo safari may be a little off the beaten path, but it often results in a friendly welcome and some heart-warming interactions with the local people, who are genuinely unaccustomed to, and fascinated by, foreign visitors. A Congo safari is known for its biodiversity and natural richness, which includes the largest area of primary rainforest in Africa. For pioneering adventurers seeking a unique African experience, the Republic of Congo offers plenty of opportunities for exploration.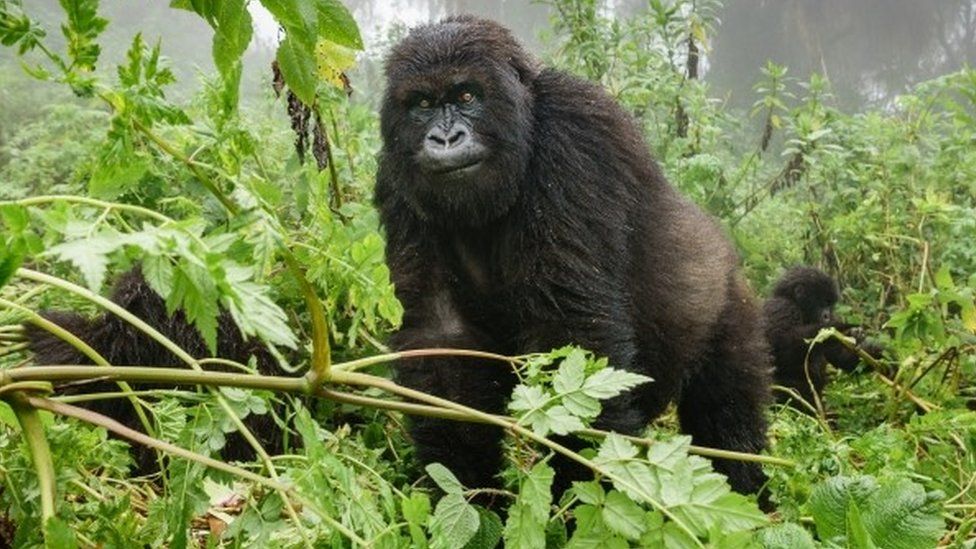 WHY SHOULD YOU VISIT CONGO?
Know that Mineral wealth abounds in the Congo. It has significant industrial diamonds, cobalt, and copper reserves, as well as one of Africa's greatest forest reserves and over half of the continent's hydroelectric potential. Tourism attractions is the main draw or, more accurately, the primary motive for most tourists to the country. The Democratic Republic of Congo is a fortunate country since it is home to the last few populations of three endangered animal species: mountain gorillas, Okapis, and lowland gorillas.
MAJOR ATTRACTIONS IN CONGO
UNESCO-designated national parks abound around the country. Active volcanoes, roaring rivers, and all the fauna you'd expect from Africa are all present. The DRC is Africa's actual and metaphorical heart, so proceed with caution.
Kinshasa
Kinshasa is the capital and one of the 11 provinces of the Democratic Republic of Congo. It's chaotic, teeming with life, and it's vast—home to over 10 million people. It was founded as a commercial post by Henry Stanley in the late 1800s and is now compared to an African New York City. It is the republic's largest consumer center and the hub of its industrial and economic activities. The city is home to large public corporations as well as privately owned industrial and commercial enterprises.
Lola ya Bonobo
Lola Ya Bonobo is a refuge for orphaned bonobos and one of Kinshasa's most famous tourist attractions. Bonobos are targeted for bush meat, and the infants are frequently abducted and sold on the black market as pets when their mothers are slain. The shelter makes every effort to reclaim as many as possible so that they can live out their days in peace. Bonobos, one of the four great apes, lived in relative isolation until the twentieth century. You may tour the sanctuary's 30 hectares of forest and see the feeding stations that the staff uses to track the apes.
Kahuzi-Biega National Park
The Kahuzi-Biega National Park is located on the eastern side of the Democratic Republic of Congo (DRC) near Bukavu town, on the western bank of Lake Kivu, and close to the Rwandan border. The park was founded in 1970 by Adrien Deschryver, a Belgian conservationist and photographer, and takes its name from two dormant volcanoes, Mount Kahuzi (3,308 meters) and Mount Biega (2,790 meters). It covers 6,000 square kilometers, making it one of Congo's largest national parks, with lowland and mountainous terrain. Kahuzi-Biega National Park was designated as a UNESCO World Heritage Site in 1980 due to its unique biodiversity of rain forest habitat and the presence of lowland gorillas (Gorilla beringei graueri), which are critically endangered.
It is one of the few places in Sub-Saharan Africa where the transition from lowland to highland vegetation zones can be clearly seen, with six distinct primary vegetation types: swamp and peat bog, swamp forest, high-altitude rainforest, mountain rainforest, bamboo forest, and subalpine heather, as well as the endemic plant Senecio kahuzicus, which can be found on the summits of Mount Kahuzi and Biega at altitudes above 2,600 The park has a wide range of biological diversity, including indigenous plants, elephants, chimps, genets, antelope, and serval.
Nyiragongo Volcano
Nyiragongo is a stunning stratovolcano with the world's largest lava lake. The lower wooded slopes of the volcano are home to a variety of wildlife, including chimps, several monkey species, the three-horned chameleon, bushbuck, and a range of bird species, making the climb to the summit all the more rewarding. The last time this incredible 3,000+ meter volcano erupted was in 2011, devastating up to 15% of the surrounding area and displacing over 120,000 people. Nyiragongo, which has erupted 34 times in the last 130 years, is situated at the point where the African tectonic plate is fracturing.
Virunga National Park.
Virunga National Park, originally known as Albert National Park, is a 7,800-square-kilometer park in the eastern Democratic Republic of the Congo that runs from the Virunga Mountains in the south to the Rwenzori Mountains in the north, bordering Volcanoes National Park in Rwanda and Rwenzori Mountains National Park and Queen Elizabeth National Park in Uganda. Virunga National Park, which straddles the borders of Rwanda and Uganda, is a UNESCO World Heritage Site. It is both the country's oldest and most biologically diversified national park. In the Rwenzori Mountains, you'll find lava plains, savannas, forests, valleys, active volcanoes, wetlands, and even glacier peaks. Hippos, lions, elephants, and a variety of rare and exotic birds can all be seen. The Rwenzori Mountains, the Lake Edward area, and the Mikeno volcano area are all worth seeing in the park.
Other attractions in Congo DRC include Lake Kivu, Garamba National Park, Salonga National Park, Okapi Wildlife Reserve, Maiko National Park, Falls of Zongo, Boyoma Falls etc.
TOURIST ACTIVITIES IN CONGO
 Tracking gorillas: Follow groups of habituated western lowland gorillas.
 Boat Safaris: Take a boat ride or go kayaking on the Lekoli River in search of animals, primates, and birds.
 Learn about primate conservation from world-renowned experts who visit camp frequently.
 On a game drive, search the savannah for native species.
 Natural Swimming: Cool off in the Ngaga Stream's natural waters.
 Night Safaris/night game drive: Search for nocturnal animals such as golden cats, spotted hyenas, and leopards during night safaris.
 Exploration of the Rainforest: Travel through the world's second-largest tropical rainforest, which is home to Africa's densest population of western lowland gorillas.
 Walking Safaris: Take a stroll through the woods and keep an eye out for forest elephants or buffalo.
WHEN IS THE BEST TIME TO VISIT CONGO?
The long dry season, which runs from May to September, is the best time to visit the DRC, with July being the driest month, followed by June. During these months, the temperature also dips slightly. In January and February, the dry season is shorter. But don't expect sunshine and a blue sky; the DRC, like much of Central Africa, is often cloudy and humid. The Virunga and Nyiragongo volcanoes' higher elevations will provide a welcome reprieve from the oppressive heat.
ACCOMMODATIONS
During your safari in the DRC, there are some of the greatest accommodation alternatives both inside and outside the park, ranging from budget-friendly to mid-range to luxury lodges to accommodate all types of travelers. The hotels in the Kivu region's main hubs are surprisingly good – they're on par with other mid-range options in East Africa, with a fair selection of options, especially in Goma. Although public transportation is unreliable to non-existent in this city, taxis and private rental vehicles are a fantastic option to get around if you want a bit more security in your Congo safari.