2 days Tarangire National Park Safari tour is unforgettable and fascinating Tanzania wildlife safari experience that will take you to Tarangire National Park, which is near Lake Manyara National Park and the Ngorongoro Crater in northern Tanzania. In addition to vast herds of elephants, bigger baobab trees, and other numerous creatures, including lions, impalas, buffaloes, zebras, waterbucks, bushbucks, wild dogs, and various bird species, Tarangire National Park is a great place to go for wildlife viewing. From June to October, the dry season, when there is less foliage and animals congregate along the Tarangire River to drink water, is when you can view a lot of wildlife at Tarangire National Park.
With a large amount of migratory movement within the larger Tarangire environment, Tarangire is one of the more seasonal parks in northern Tanzania. The Tarangire River attracts enormous herds of animals during the dry season, which lasts from June to October. The number of elephants is amazing at this time. Any safari across northern Tanzania must visit the park.
Tarangire National Park Safari highlights:
During the dry season, the best overall animal viewing.
An incredibly dense elephant population during the dry season
Excellent birding destination
A beautiful landscape with lots of baobab trees.
Outstanding mid-range and luxury lodges
The wet season causes animals to be dispersed.
 Wildlife at Tarangire National park
In search of underground streams, herds of up to 300 elephants can be seen in the dry riverbeds, while migrating wildebeest, zebra, buffalo, impala, gazelle, hartebeest, and eland swarm the dwindling lagoons. Additionally, it's common to see dry-country antelope like the long-necked gerenuk and fringe-eared Oryx. Mongoose colonies are often found in abandoned termite mounds. Due to the dense forest, none of the major predators are as frequently observed as they are in some of the other northern Tanzania national parks like Serengeti National park.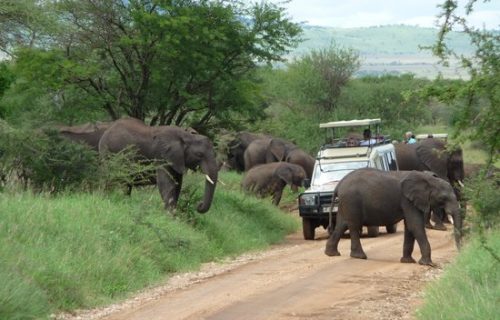 Scenery in Tarangire national Park
Scenery The Tarangire River is the park's most prominent feature. The park is rather densely populated with acacia shrubs and mixed woodland, despite the fact that it can get very dry. The enormous baobab trees that are abundantly dispersed throughout the area are the most striking.
DETAILED 2 DAYS TARANGIRE NATIONAL PARK SAFARI ITINERARY
Day one: pick-up and drive to Tarangire National Park.
Day 1 of your 2-day Tarangire National Park safari tour will begin when our knowledgeable Focus East Africa tour guide picks you up at Kilimanjaro International Airport. Before driving you to Tarangire for more activities, he will give you a brief overview of your safari tour. After a brief introduction, drive to Tarangire National Park and check into your lodgings. The journey from the airport to Tarangire National Park will take close to two hours. Along the route, you can expect to witness some of Tanzania's most stunning landscapes, including Mount Meru in Arusha, as well as locals going about their everyday lives.
You will have breakfast when you get to the park, check into your lodging, and then go on a full-day game drive with a packed lunch that you will have while driving through the bush. After the game drive, which lasts until 6 p.m., you'll return to your lodging for dinner and the night. A stable water source essentially guarantees large herds, superb game watching, and the presence of 3,500 elephants, as well as cheetah, lion, leopard, and hyena. Eland, Oryx, kudu, and gerenuk are just a few of the other unique species that may be found and seen in the park during game drive.
Day two: morning game drive followed by departure
On the 2nd day of your 2 days Tarangire National Park Safari tour , You can go on a morning game drive before leaving, depending on what time your flight will depart. You will get up early, go on a morning game drive from about 12:00AM to 9:00AM, return to your lodging for breakfast, and then check out. On this day, as the game drive will start early in the morning, expect to observe nocturnal animals like leopards. After breakfast, check out of your lodging, and your guide will take you back to the airport so you can catch your flight home. Depending on the time, you may have a stopover in Arusha town to go shopping and get some goods to take home as presents for your friends and family.
Tour Package Inclusions
Accommodation and Meals
Full-time English-speaking guide
Bottled drinking water
Park admission fees
Pick up and drop off at the airport
 Tour Package exclusions
International Flights
Travel Insurance
Alcoholic beverages
Tips
Any other activity that is not included in the itinerary