What is Special About Tarangire National Park? : Tarangire National Park is Tanzania's sixth largest national park, covering 2,600 square kilometers. One of Tanzania's lesser-known national reserves, Tarangire, matches the Serengeti in terms of wildlife diversity. It's a good option for safari goers who want to see more wildlife and fewer visitors' safari vehicles. It is highly suggested that you stay for a few days in Tarangire during your safari, particularly in the south of the park, which offers a less crowded safari experience and allows you to appreciate a real African sense of Tanzania's countryside.
Tarangire is a protected area with massive baobab trees, open grasslands, and large elephant herds. In comparison to the Serengeti, Kilimanjaro, and Tarangire, it is still a relatively unknown safari destination, but trust me when I say that Tarangire has some of the best safari attractions to offer and will make your Tour stand out. Most people need to see Tarangire National Park, but they are hesitant of what makes it so unique, prompting them to wonder, "What makes Tarangire National Park so unique?"
Tarangire National Park is notable/special for three things: it is a fantastic birding destination; it is home to vast herds of elephants; and, last but not least, The scenery is particularly interesting because of the abundance of gorgeous baobab trees as well as the vast numbers of game, especially during the dry season, when the Tarangire River is the sole source of water in the area. The following are some of the reasons why Tarangire National Park is unique and why you should book and organize your safari in Tarangire National Park.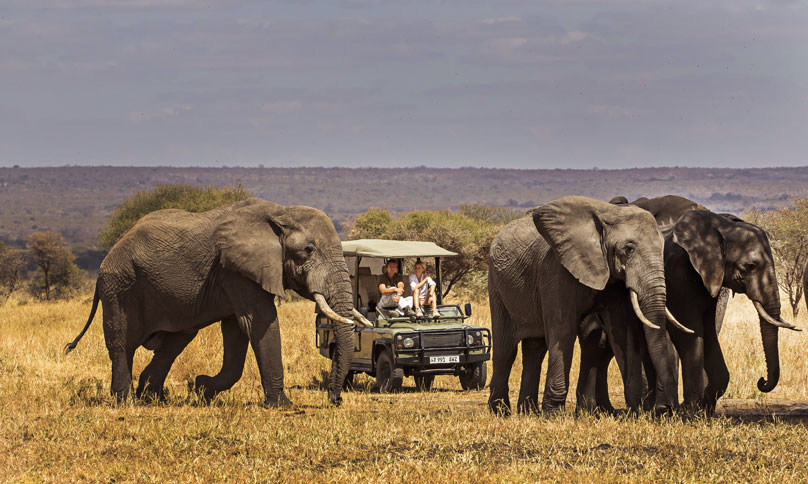 Special for the largest herds of elephants.
Despite being less well-known and visited, Tarangire National Park is the only national park in Tanzania where you can witness larger herds of elephants when on a safari tour in Tanzania. It is Tanzania's sixth-largest national park, with unrivaled elephant sightings. Indeed, the park has the largest elephant population in northern Tanzania, with an estimated 4,000 elephants, and their numbers are rapidly increasing at a rate of 6% per year. During your safari in Tarangire National Park, it's not uncommon to observe a hundred elephants in a single view, and up to 500 elephants in only a few hours. In addition, this park contains a large variety of savannah species that, during the dry season, can rival in numbers the Serengeti's densities.
Special for a one-of-a-kind landscape filled with amazing giant baobab trees
Unlike other parks that are made up of acacias and other sorts of trees, the Tarangire national park is unique in that it is surrounded by incredible, huge trees known as baobabs, which give the area its natural beauty and make it one of the must-see attraction on any Tanzania safari tour. Nothing compares to the baobab (Adansonia digitata), whose massive, robust trunk and stunted root-like branches are instantly recognizable as an African icon. Because of its odd shape, legend has it that the tree enraged a deity, who then plucked it and tossed it back into the earth upside down.
The baobabs of Tarangire may grow up to 30 meters tall, with 11-meter-wide trunks, and have lived for over 1000 years; the oldest known baobab, which lived for 6000 years, was found in South Africa. Elephants adore baobab bark, as seen by the baobabs throughout the park. Nevertheless, elephants rarely kill the trees; most baobabs renew their bark with no lasting damage.
In times of drought, the hollow trunks of Tarangire baobab trees may store up to 125,000 liters of rainwater, making them a handy reservoir. The seeds are wrapped in a sherbet-like liquid that can be eaten or converted into a juice-like drink in the tree's huge pods (which resemble pendulous Christmas decorations). The pods are used to construct cups and bowls (typically for sipping palm wine) as well as fuel; they burn slowly and are particularly effective for smoking seafood. When cut, boiled, and turned into a sauce, baobab leaves can be eaten; they can also be dried and powdered into a paste to be used as a poultice for skin infections and joint issues.
 Special for being a superb birding paradise.
According to most safari experts, a trip to Tanzania's birding mecca isn't complete without a stop at Tarangire National Park. Forget about the massive baobab trees and the greatest herds of elephants; Tarangire National Park is also regarded as a wonderful birding paradise, with both types of bird species to enjoy on your Tanzania safari tour.
Bird viewing is one of the tourist activities in Tarangire National Park, which is renowned as one of Tanzania's top birding destinations with over 500 species. The diversity of species is reflected by the diversity of environments. Pelicans, storks, and spoonbills are among the water birds that breed in marshy environments. On drier ground, Kori bustards, ostriches, and noisy ground hornbills coexist with lovely, brilliantly colored lovebirds, barbets, and weavers.
If you're looking for a birding safari in Tanzania, Tarangire National Park is a great place to go. Don't forget to bring binoculars and a camera for bird watching and other activities. Focus East Africa Tours will design a trip for you, matching your interests, tastes, and budget, and will be made with an uncompromising commitment to excellence. For any queries and safaris regarding bird viewing in Tarangire National Park, do not hesitate to contact Focus East Africa Tours.
Even though it is a less visited park, Tarangire National Park safari vocation has never been a regret. Just imagine seeing more than 100 herds of elephants in one large group, or getting up close to the wonderful, gigantic baobab trees filled with more than a hundred bird species. If that isn't enough to persuade you to visit Tarangire, there are also cultural tours around the park where you can learn about local life, or go to neighboring parks such as Lake Manyara and Ngorongoro.
After knowing about Tarangire National Park's unique features, you're probably organizing your Tarangire safari trip and wondering what the best time is to visit. The dry season months of June to November are the best seasons to visit the Tarangire National Park, as most animals will flock to the Tarangire River to stay hydrated, providing superb game viewing possibilities for visitors. However, if you are a bird lover and want to go on a birding safari, the best time to go is during the rainy season, when there is a greater chance of viewing more bird species because migrating birds come at this time.