Kitulo National Park : On the Kitulo Plateau in Tanzania's southern highlands is where this botanical protected area of montane grassland and montane forest is found. The park is located between the peaks of the Kipengere and Poroto mountains at an elevation of 2,600 meters (8,500 feet) and spans 412.9 square kilometers in the Mbeya and Njombe regions. Tanzania National Parks (TANAPA) manages the park, which was the first in tropical Africa to be formed, especially to safeguard its flora. The Kitulo Plateau is also known as the "Serengeti of Flowers" by botanists, while locals refer to it as "Bustani ya Mungu" by locals ("The Garden of God"). Kitulo National Park has a daily entrance fee of USD $20 per guest.

Kitulo is a botanical wonder, with 350 kinds of vascular plants, including 45 varieties of terrestrial orchids that erupt into a riotous wildflower display of astonishing scale and diversity during the rainy season, which runs from late November to April.
On their annual migration between the European and African continents, European White Storks and other species of stork from Scandinavian countries fly across West Africa to brood on the Kitulo Plateau. These large, magnificent birds spend a few months in this park before continuing on their long voyage across the continent.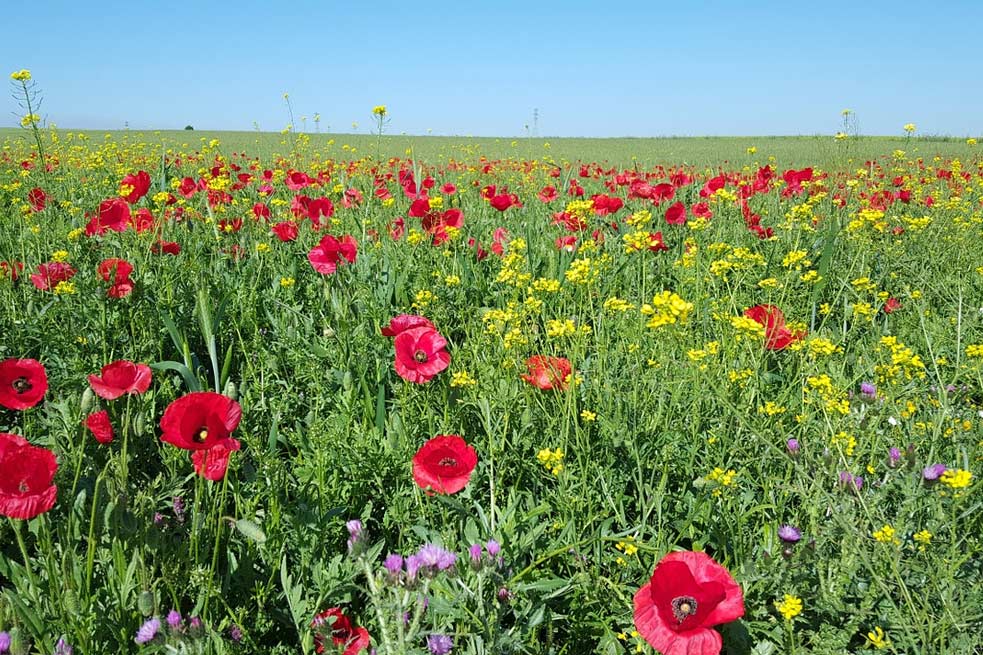 WHEN TO VISIT KITULO NATIONAL PARK
The optimum time to visit the park depends on the main aim of visitors. For those interested in seeing lovely flowers, the best time to visit is between December and April, when wildflowers are at their peak. During the sunny season, from September to November, it is great for hikers and game viewing but less rewarding for botanists. However, it is ideal to visit the park during the dry season, when not only are the roads easier and friendlier, but also wildlife watching and trekking are at their best.
HOW TO GET TO KITULO NATIONAL PARK
The most popular modes of transportation to Kitulo National Park are air, road, and rail. The Kitulo National Game Park headquarters are located in Matamba, Tanzania, in the Mbeya area. The park is about a one-hour drive from Matamba headquarter. Tourists have the option of taking public transportation, safari vehicles, or their own private transportation. A train may be utilized to reach the park from Dar es Salaam to Mpanda through Tobora, then use public transportation to Sitalike, where tourists can hire special hire for game drives.
Songwe airport, located in Tanzania's southern highlands, serves the city of Mbeya and the surrounding areas with domestic flights supplied by Air Tanzania, Precision Air, Fast Jet, and Tropical Air.
WHAT TO DO AT KITULO NATIONAL PARK
Though it is known for its flowers, Kitulo National Park offers a variety of other tourism activities which can make your trip to Kitulo really enjoyable and amazing. Some of these activities include
Bird watching:
Kitulo national park draws a variety of bird species, some of which are inhabitants, and others of which are migratory birds due to its botanical fame. Denham's bustard, which is uncommon in other areas of the country, cisticola, and kipengere seed eater are among the most common.
Walking Safaris.
You may enjoy the park's beauty on foot in addition to by car. Tourists are given a park ranger guide who will walk them around and keep them safe from harmful animals. Rangers are also more knowledgeable about the best spots in the park for spectacular vistas of gorgeous flowers. Apart from flowers, travellers can go on guided nature hikes through the Livingstone forest area and to the shores of Lake Nyasa, where they can relax and have a packed lunch at the charming Matema beach.
Game Viewing
Kitulo National Park is a must-see for game viewing because of its diverse wildlife. Giraffes, cape buffalo, zebra, warthogs, blue monkeys, flamingos, elephants, lions, black and white colobus monkeys, to name a few, all tempt visitors.
Mountain climbing
Tourists can go on a day climb to the top of Mouth Rungwe and view primates such as vervet monkeys, Kipunji monkeys with a long hong bark call, Columbus monkeys, and wildlife such as Reed bucks and elands. The views of the Kitulo national park from the mountain tops are even better.
Camping
Camping is a terrific way to have a great time in the great outdoors. The park is dotted with a variety of camping areas, all of which are well-equipped with nice accommodations and bush toilets.
WHERE TO STAY AT KITULO NATIONAL PARK
The Park has a limited number of accommodations/lodging alternatives where travelers can stay during their visit. Camping, a magnificent tented camp facing Lake Chada, and excellent hotels are also available in Mpanda, as well as a rest camp at Sitalike, in Kitulo National Park.
 Tented campsites
One deluxe tented resort overlooking Lake Chada is open seasonally. Also, Mpanda has a number of basic yet clean hotels.
Camping
Various campsites are accessible within the park, as well as a rest house at Sitalike.