ACTIVITIES IN TARANGIRE  NATIONAL PARK
Activities in Tarangire National Park : Things to do in Tarangire national park  are the ventures that the travelers engage in when they visit the park as they explore the different wildlife species. Tarangire national park is positioned in the Manyara region of Tanzania, the park is endowed with diverse biodiversity covering an area of 2,850 square kilometers making it home to many wild animals as well as a lot of plant life, Tarangire national park is crossed by River Tarangire stream lined with a lot of wildlife quenching thirst in the afternoons to thrill while on Tanzania Tours.
Tarangire national park is known for harboring abundant wildlife species including animals like large herds of elephants, buffaloes, hartebeests, wildebeests, giraffes, elands, warthogs, lesser and greater kudus, zebras, impalas, gazelle, lions, hyenas, wild dogs, long necked gerenuk, fringe eared Oryx and different bird species like ostriches, Kori bustard among others.
Game drive
It depends on the visitor's interest. Tarangire game drive can be done either in the morning, afternoon, evening, or the whole day. The entire day game drive entails driving around the park with a parked lunch on which visitors can eat while on the move. On the way to a game drive, visitors get a chance to enjoy the prodigious attractions available in the park, such as wildlife, especially large groups of elephants, outstanding beauty of nature, including baobab trees for botanists.
Bird watching
Ostriches, Kori bustards, hornbills, rufous-tailed weavers, and harsh starlings are some of the bird species you may encounter during your bird watching trip to Tarangire National Park. In fact, the park is full of different bird species, not only in abundance but also in diversity. Migratory birds from different parts of the world are present in the park, and you may encounter some of them around the swamp floodplains during your visit to Tarangire. Tarangire has never been a regrettable trip for bird lovers.
Bird watching in Tarangire national park can be done during the game drive or nature walk with an experienced bird guide who will help you to spot different bird species like rufous tailed weaver, helmeted guinea fowl, white bellied go away bird, yellow collared lovebird, ashy starling, bateleur eagle, tiny pygmy falcon, giant lappet faced vulture, great white pelican, red billed teals, white faced whistling duck, red bellied parrot, tawny eagle, red and yellow barbet, northern pied babbler, ostrich, kori bustard, African grey flycatcher, slate coloured boubou, pink breasted lark among others.
Nature walks
This is a unique kind of adventure as visitors get to see and view wild animals at a very close distance. No disturbance to animals as walking safari is quieter and cooler compared to game drive and this creates an advantage for visitors to get more close to wildlife. It's an incredible kind of activity that makes visitors feel awesome. Visitors feel and smell the real taste of being in the bush, and this adds credit to making a trip notable. But also don't forget, to make visitors comfortable and ensure their safety during nature walks, they should be accompanied by an armed ranger.
Cultural visit
If you want to know the feeling of interacting with local people, Tarangire National Park is one of the parks where visitors get a chance to interact and feel like they are also local. Participating in local activities such as participating in and enjoying traditional dance, tasting local food, and even buying their local commodities and donating a little amount to them is an outstanding moment you will never ever forget. Maasai culture is mainly a cultural tourism experience and activity in Tarangire National Park.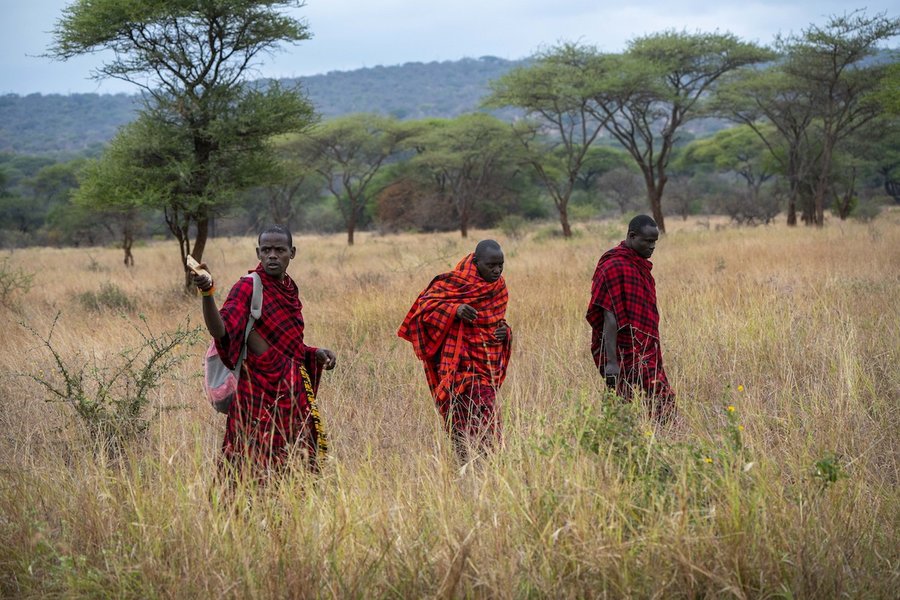 Best time to visit Tarangire national park
Tarangire national park can be visited all year round though the best time is during the dry season also known as the peak season in the months of June to October and December to February. During the dry season there is little rainfall in the park therefore roads to Tarangire national park will be easily accessible, vegetation will be thin which helps you to clearly view animals and most wildlife species will gather around the water sources to drink water hence offering breathtaking wildlife views and also an opportunity to take incredible photos.
Tarangire national park can also be visited in the wet season also known as the low season during the months of March to April and November because that's the best time for bird watching where bird lovers will be able to spot colorful and migratory bird species from Europe and North Africa.