1 Day Materuni waterfalls and Coffee Tour : The lovely village of Materuni, where our Chagga friends reside and which is renowned for its delicious, creamy coffee, is tucked away in the patchwork foothills of the great Mount Kilimanjaro. To spend a day away from the hustle and bustle of metropolitan life, take a journey to Materuni Village and Waterfalls. The walk to Materuni Waterfall provides a view of Tanzania's natural beauty and allows you to either get in shape for your upcoming climbs up Mount Kilimanjaro and Mount Meru or relax your muscles afterward before or after your wildlife adventure through the Serengeti, Ngorongoro, and Tarangire national parks' rough terrain.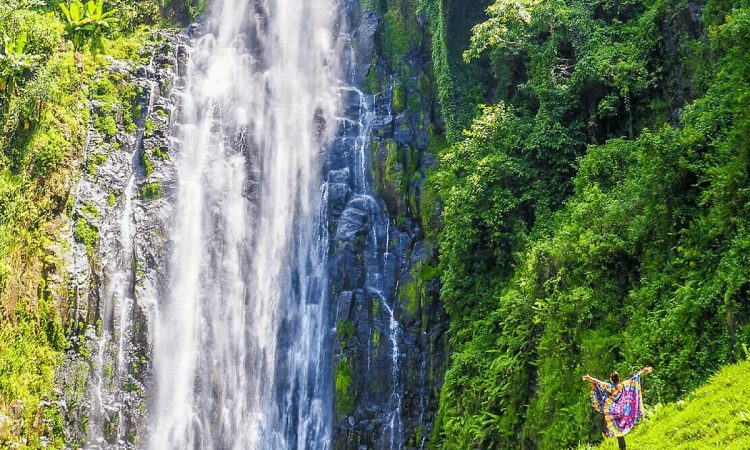 A hike to Materuni Waterfall-Village is the first stop on your one day itinerary. As well as learning about some of the local history, customs, village economy, agricultural and cultural life, visitors will have the chance to observe how native fruits including avocados, mangos, lemons, and bananas grow.
On this aromatic and enjoyable day trip, you will have the opportunity to make your own cup of coffee in the right manner and you will learn the secret to making the ideal cup of coffee from the nearby Tanzania-Chagga tribe. The locals will walk you through the process of making coffee from bean to cup while also demonstrating the farming of coffee.
The Materuni Falls are the next destination, where you may stand beneath the waters as they cascade into a calm pool that is safe for swimming. The hike there is short but difficult. And you'll want to dive right in since there's nothing more relaxing than swimming in the cool waters after a climb that leaves you sweating. If you get hungry, eat your packed lunch before or after swimming to Materuni Falls. 
TOUR ITINENERARY
Start your short-adventure with a short but intriguing journey from Moshi town to Materuni, a community located around 1,800 meters above sea level, on the verdant slopes of Mount Kilimanjaro. This region is known for its market gardens and has the ideal soil and climate conditions to produce some of the best coffee in Africa. You will go to a coffee farm, where you will learn about the cultivation, harvesting, and processing of coffee. You will also have a chance to practice roasting and making a fresh cup of coffee the way the locals do.
You'll enjoy a lovely 45-minute stroll through the hills and valleys en route to the Materuni Falls after a delightful coffee break (so much better than the ones at your working office home). You'll travel through banana and coffee plantations, over ridges, up and down small valleys, and through confined, splashing rivulets.
Your guide will give you further background on the local Chagga culture as well as information about local flora and how they are utilized for food and traditional medicine along the way. You have the opportunity to ask about a way of life that is likely very dissimilar to your own, or question about anything else you feel is relevant. Before you see the falls, you'll hear them, and when you do see them, you might be lucky enough to catch a glimpse of a rainbow sheen as the leaping waters divide the sunlight, 1 Day Materuni waterfalls and Coffee Tour
The Falls are tucked away in a beautiful valley with cliffs rising 200 feet above the ground. Since these are pure mountain waters that have not yet been warmed by the sun, you can float, go swimming, and relax in the rippling pool there. The mountain waters fall straight down in a shimmering curtain.
After your breathtaking swimming and other enjoyment, you will have a packed lunch before returning to your lodging or the location from which you were picked up to get ready for any remaining activities. The Materuni waterfall is best visited in a single day, but if you want to extend your enjoyment and have a wonderful safari trip, we recommend spending additional time in Moshi, the town where Mount Kilimanjaro is located; Arusha city, also known as the Geneva of Africa; and Arusha National Park, which is also close by.
Transport by local transportation or private car

Village and waterfall fees

Local guide

Lunch box

A 1.5-liter bottle of water
NOT INCLUDED
Personal items

Gratuities/"tip" for the guide

Travel insurance and visas

Domestic and international flight

Other expenses that are not included in "Tour Includes" above